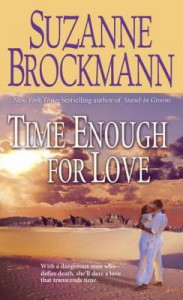 Opening Line: "There was a naked man pounding on Maggie Winthrop's back door."
This is classic Brockmann before she jumped on her political soapbox and just wrote fun romances. Written in 97 this one's aged pretty well and is an entertaining and unique story centering on time travel. Our heroine is involved in a unique love triangle with two men, who just happen to be the same man; Charles and Chuck -who is Charles just 7 years later.
It's a bit of a mind bender at times but Brockmann handles the aspects of time travel really well and you won't have to suspend disbelief too much. She also uses the idea of residual memories and creating new ones which is a pretty neat. There is some suspense involved with the bad guys from the future and plenty of PG love making. The ending was a nice surprise and made me smile.
Maggie Winthrop is a realist so when a naked bleeding man shows up on her front lawn saying he's invented a time machine and come from the future to change history and prevent a global catastrophe; she of course thinks he's off his noodle. And despite the instant attraction between them and the fact that he seems to know personal things about her, she's ready to call the cops. However over several days Chuck begins to accurately predict the future until she can no longer deny his claims.
Chuck Della Croce has travelled back in time line to stop himself from inventing the time machine that will ultimately destroy the future and end Maggie's life. Now all he has to do is convince Maggie to help him stop his current self from continuing his research and evade those nasty Wizard-9 agents who have followed him back in time.
This is a cute, quick and fun romance without a political agenda in sight.
416jb3