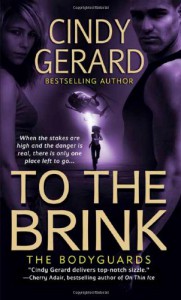 Opening line: "Ethan. Um. Hi. It's...Darcy."

Wow this was fantastic, probably up there as one of my top 5 romantic suspense's ever. I was completely wrapped up in this story and had trouble putting it down for anything. It actually reads more like an action movie then romantic suspense, the thrills are just non-stop, with a retired Special Forces soldier trying to extract his ex-wife from terrorist kidnappers.

The jungle rescue (which takes up most of the book) goes from bad, to worse, to FUBAR and really had me wondering how the hell are they going to get out of this mess? Yet somehow between all the bullets, bad guys and blood loss Cindy Gerard also managed to completely suck me into the romance aspect. (Sigh) Yes, with a few well placed cherry lifesavers she created a balance between the two and by the end gave me a couple that I was genuinely cheering for.

I'll admit though I'm a bit of a sucker when it comes to the reunited lovers theme and Gerard does a brilliant job here with Ethan and Darcy. I loved their love story. And unlike some of the other reviewers really enjoyed seeing their failed marriage played out in flashbacks throughout the book. For me this gave an added element of suspense because while we get to see the beauty of their initial meeting and falling in love we also know from the onset that it ends in divorce. I was morbidly curious about its unravelling; I mean they were so in love what happened?

"Eight days. She'd know him eight days. And she said yes without hesitation."

When he reached her, he touched a hand to her face. Smiled. "Important. That's one word. Everything. That's another. Loved," he said, adding the most important word of all. "God Darcy you are so loved"

Darcy Prescott is working for Diplomatic affairs in Manila when she realizes she's in big trouble. It may have been 5 years since her divorce but the first and only person she can think of to save her is Ethan Garrett. Moments before she's taken Darcy places the call to her ex-husband and then disappears.

Ethan may have left the military behind but he's never been able to fully let go of his wife. A plea on his answering machine see's Ethan assembling a rogue rescue team from within his family's bodyguard business (EDEN) and hitting the fast track for the Philippians. Armed with a pocket full of cherry life savers and a big gun Ethan easily slips back into combat mode. He's extracting his wife and taking her home if it's the last thing he ever does.

"Wake me up in a few hours and keep your eyes on the rearview"
"What am I looking for?" She asked glancing into the glare of headlights shining in the mirror
"The bad guys, babe. The bad guys."
"They'll be carrying signs right?"

To The Brink is the 3rd instalment form Cindy Gerard's Bodyguard series however to me it read more like one of her Black Op BOI's books, especially when you compare it to the first two from this series which were just kind of average and didn't have any exotic locations or crazy combat scenarios. Anyways I cannot recommend this one enough. Cheers.