Opening Line: "Sucking weak coffee through a hole in the plastic lid of a red and green styrofoam cup, Sera spots a place to sit down."

Charming at times yet brutal in its honesty LEAVING LAS VEGAS is ultimately a graphic and depressing love story. There is no hope for redemption here and author John O'Brien makes no apologies for it, having committed suicide soon after the movie rights to this book were sold, many consider LLV to be the authors suicide note to the world. However this is also a beautiful and compulsively readable masterpiece. Exploring the dark depths of alcoholism, the needy loneliness of prostitution and the unconditional love between two lost souls.

LLV is told in 4 sections. Alternating between Sera, a content yet increasingly jaded hooker and Ben an alcoholic on one final bender. We also get to meet Al (unlike the movie) Sera's violent and broken former pimp who's hoping to reclaim what was his. I will admit to having a bit of trouble following the story in the beginning as I got used to O'Brien's style of writing. He tended to jump between the past and present in a pretentious manner that was very hard to keep track of. In these beginning chapters we watch Sera go about her daily routine and witness some of the harshest and most shocking moments in the book.

Section 2 traces Ben as he ties up the loose ends of his former life in California and prepares to drink himself to death in Las Vegas. Ben never makes excuses for being an alcoholic, the issue is completely irrelevant to him. He just shows us what it takes to get through the day as one. With his alcoholism progressing Ben has become a time keeper; when do the bars open? When do they close? Which stores sell liquor? How much will he need to see him through the night? And how the hell did he get home? It's all quite exhausting and he knows he doesn`t have much time left. Ben now dreams of Las Vegas where he can pawn his watch because they never stop serving there. Through circumstance Ben and Sera meet in Vegas and immediately identify each other as kindred spirits. Each accepting the other for who they are and entering into a desperate and bleak relationship that you just know isn`t going to end well as neither is about to change.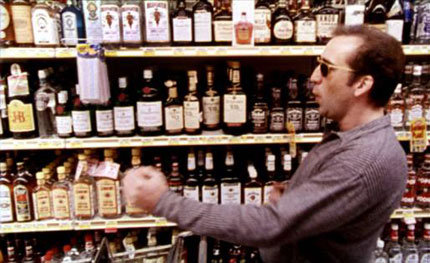 This is one of those books that stays with you long after you've finished. I found myself captivated by Ben's world and all his tricks to remain as intoxicated as possible. His POV is awesome and I think Nicholas Cage was cast flawlessly in the movie as there are moments of harsh, sardonic humour that he captured perfectly.

I recently lost a dear friend to alcoholism (he was a funny, no excuses man too) and I read this book in an attempt to somehow understand why. Now that I'm finished I still don't understand why, Ben doesn't know why either, he just is. I suppose you have to admire someone who leaves life on their own terms, however horrible they might be.