Opening Line:"For Dawson Cole, the hallucinations began after the explosion on the platform, on the day he should have died."

By now I've read enough Nicholas Sparks to know going in that I'm not always going to be guaranteed a HEA. In fact half of the suspense for me in reading his stuff now is that I'm not sure who he's going to kill off. Sure it's also frustrating as hell, because I always forget and then just when I'm all invested in the characters and wrapped up in their budding romance, blam. Tragedy strikes. Yeah, more than once I've thrown one of his books across the room in disgust but I still keep coming back for more. Damn you Sparks.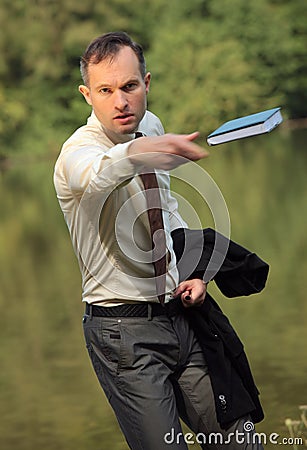 This was another good NS book which (as always) sucked me right in. I'll be honest though there's nothing particularly new here and even if Sparks' name weren't splashed all over the cover, there'd still be no mistaking who wrote it. The Best Of Me reads like bits and pieces of all his other books with; unrequited love, reunited lovers, Notebook-esque flashbacks with an older couple, moral dilemmas, a bit of spirituality, a tortured hero, unscrupulous bad guys and a predictable yet nail-biting ending while you await the outcome of (in this case) a shooting. Yet somehow all that's ok because when something works for you and the reader why change it?

Amanda Collier and Dawson Cole were teenage sweethearts in 1984 small town North Carolina; from opposite sides of the tracks, their intense and beautiful romance didn't really stand a chance. You see the Coles are hard drinking, woman beating, law breaking, drug dealing, bad boys and Amanda's folks are church going, stand up citizens. Despite the odds, or maybe because of they manage to find each other and fall in love, spending considerable time at old man Tuck's garage where Dawson works. I really enjoyed their teenage romance which is told here through flashbacks from both sides of the pair who are now in their forties.
Dawson is another quiet, somewhat tortured hero of Sparks' who you can't help but fall for. (I'm hoping to see Channing Tatum in the probable movie version) He works on the oil rigs, has spent time in prison and almost his entire life running from his messed up family and their reputation. Oh and he's also never gotten over his one true love Amanda.
When their old friend and mentor Tuck dies the pair are reunited in their hometown for the funeral. The grumpy yet crafty old man has left explicit instructions as to how his final wishes are to be carried out, including a trip to his cabin and some personal letters. As expected the years apart haven't diminished what Dawson and Amanda feel for each other despite the fact that Amanda now has a husband and children. Throughout their reunion we have some bad guys gunning for Dawson, a ghostly/angel figure following him and adding intrigue as we don't learn the whys for a long time, and a bad marriage that may or may not be worth saving.

There are actually are quite a few characters involved here and Sparks has again written this using multiple POV's which as the suspense factor increases get shorter and shorter, so that towards the end you're only getting about a paragraph from each character. I found that this increased the tension level while he wove all the storylines together and left this reader on pins guessing the outcome. Damn you Sparks. 358jb4